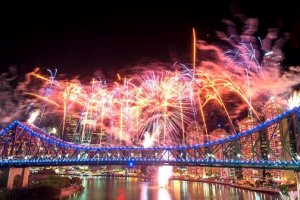 Brisbane NYE - Where to Celebrate and Watch the Fireworks This 2019
For the final night of 2019, head to Brisbane for the biggest New Year's Eve celebration in Queensland. Each year, Brisbane delivers an experience to remember with something for all ages to enjoy - from kids activities and food stalls at the Cultural Forecourt to climbing Story Bridge for the best view of the midnight fireworks spectacular.

Huge fireworks displays at 8.30 pm and midnight are the highlights of each New Year's Eve in Brisbane, which light up the Brisbane River near The Wheel of Brisbane with numerous vantage points and several unique experiences if you're looking to reel in the new decade in style. For a memorable New Year's Eve in the city for 2019, here are the best ways to celebrate and watch both fireworks displays:
South Bank
Southbank Brisbane is the heart of the festivity and excitement each New Year's Eve in Brisbane. Along the riverfront are market stalls, food vendors, family activities, street entertainers and more, which start early in the day, providing both locals and tourists with plenty to see and do before the evening fireworks.

Experience the incredible atmosphere in South Bank this New Year's Eve - both South Bank Cultural Forecourt and South Bank Parklands offers all the above in addition to being two of the best vantage points for the Brisbane New Year's Eve fireworks. Whether you're with the kids or heading to the city with your significant other, South Bank is a New Year's Eve hotspot that won't disappoint with the number of attractions it has to offer.
The Wheel of Brisbane
A stone's throw from the Southbank Parklands, The Wheel of Brisbane offers the ultimate New Year's Eve experience for group revellers or couples looking to enjoy an eye-level view of the fireworks above Brisbane River.

If you've got an open budget this year, get yourself booked for a private gondola, in which you'll ascend high above the riverfront with a direct view of either the 8.30 pm or midnight fireworks. Premium wine, picnic treats and more will also be available to purchase on the night.
Brisbane City Botanic Gardens
For a more relaxed New Year's Eve experience in Brisbane, the Brisbane City Botanic Gardens can be explored during the day before settling down to take your spot on the river-bend - near Riverstage and Captain Cook Bridge - for a waterfront view of the New Year's Eve fireworks.

From this area of the City Botanic Gardens, you'll get to see The Wheel of Brisbane and Victoria Bridge with both fireworks displays in the night sky above. Take a picnic blanket and some deck chairs to set up early in the day, where you can expect a decent-sized evening crowd but one that's not as busy as to be found in the Southbank Parklands.
Kangaroo Point Cliffs Park
Another great lookout spot for the annual Brisbane New Year's Eve fireworks is Kangaroo Point Cliffs. Situated on the other side of the river from Brisbane City Botanic Gardens, the elevated Kangaroo Point Cliffs Park offers a breathtaking 180-degree of the city from across the river, making it a prime location to watch the fireworks as they decorate the sky above Brisbane's CBD.

As expected, arrive early to get the best view where the park meets the river. Also in Kangaroo Point, Captain Burke Park is another location to witness the New Year's Eve fireworks, located just a stone's throw from Story Bridge.
Story Bridge
If you're yet to climb Story Bridge, take the plunge this New Year's Eve with Story Bridge NYE Climb. Story Bridge Adventure Climb operates throughout the year, with the New Year's Eve Climb offering the added bonus of watching the incredible New Year's Eve Spectacular from atop the Brisbane River with breathtaking city views in every direction.

For an unforgettable thrill on New Year's Eve 2019, simply choose which fireworks display you want to see, with two available Story Bridge climbs that will take you to the summit just in time for the show.
Brisbane River
Each New Year's Eve, numerous boat cruises offer the opportunity to see the fireworks up-close while floating along the Brisbane River. Also ideal for couples and groups, this experience will take you on a tour of Brisbane's landmarks before passing The Wheel of Brisbane, where you can decide between seeing the 8.30 pm display or the midnight spectacle.

To add to the experience, book a Brisbane River cruise with a dinner course or buffet selection, with some operators also providing live onboard entertainment and a choice of premium beverage packages.
Queensland Performing Arts Centre
If you're looking for world-class live entertainment before the fireworks, head to Brisbane's QPAC - just a short walk from South Bank Cultural Forecourt - for New Year's Eve Gala Variety Concert 2019. Offering two performances that will end just in time for each fireworks display, this glamorous variety concert is one more way you can make New Year's Eve 2019 one to remember.

The renowned Queensland Pops Orchestra will take centre-stage, performing a handful of popular music classics with incredible vocals from Australian theatre stars including Shubshri Kandiah. This two-hour New Year's Eve concert for 2019 will take place in the QPAC Concert Hall at 5.30 pm and 9 pm.
Stay for NYE 2019 - Book Southbank Apartments with South Central
Make it a city break! Stay in Brisbane over New Year's Eve with our Southbank accommodation at South Central, which will place you within walking distance of the Southbank Cultural Forecourt, South Bank Parklands, The Wheel of Brisbane and the best places to dine in Southbank before the NYE fireworks light up Brisbane River.

Here at South Central, we offer modern, spacious and fully self-contained one and two-bedroom apartments in the heart of South Bank, complete with guest advantages that include a rooftop swimming pool, an onsite restaurant, free WiFi, secure parking and more.

Start planning your New Year's Eve in Brisbane today - visit South Central.