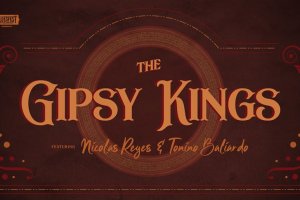 See The Gipsy Kings + Exciting QPAC Shows This April
April has never been more exciting - at QPAC and Brisbane Convention Centre in South Bank, don't miss a handful of world-class exciting shows and events this April, including Penn and Teller live and The Gipsy Kings returning to Australia for another highly anticipated national tour.
There will also be four exclusive performances by The Wiggles on their brand new 2020 Fun and Games Tour - the perfect show to spoil the kids on their school holiday!
For a memorable Easter weekend break or a few days in the city with the kids, our Southbank accommodation at South Central offers ideal fully self-contained apartments with a prime location in the heart of Brisbane, mere minutes from Queensland Performing Arts Centre, Brisbane Convention Centre, Queen Street Mall and more.
Book an affordable city break with us this April and take the opportunity to enjoy one of these unmissable April events:
Penn & Teller
Penn and Teller are touring Australia in 2020 and simply not to be missed for fans yet to see the world-class duo live on stage.
Las Vegas regulars, Penn and Teller will come to Brisbane for five exclusive nights at the Queensland Performing Arts Centre, where they will perform effortless sleight-of-hand, vanishing acts and more from their ever-growing arsenal of mind-boggling magic tricks and feats.
Delivered with their trademark sophisticated and comedic style that's nothing short of entertaining from start to finish, catch the iconic duo at QPAC with five evening performances from April 7 to April 11.
The Gipsy Kings Brisbane Convention Centre
Returning to Australia after a huge national tour just last year, Latin band The Gipsy Kings are one of the globe's best flamenco groups, having performed the world over with more than 10 chart-topping albums to their name, including Savor Flamenco which won the 2013 Grammy Award for Best World Music Album.
High-energy flamenco and salsa is what The Gipsy Kings do best, diving deep into their musical roots with each song and live performance while taking inspiration from contemporary pop and rock.
Featuring original members Nicolas Reyes and Tonino Ballardo, who wrote some of their earliest songs including "Bem Bem Maria", "Volare" and "Bamboleo", The Gipsy Kings are simply not to be missed at Brisbane Convention and Exhibition Centre on April 12.
The Wiggles Fun and Games Tour
Entertainment group The Wiggles, who have appeared live on stage and TV, are back with a brand new live show in an unmissable 2020 Australian tour titled Fun and Games.
Star entertainers Emma, Lachy, Simon and Anthony - along with Wiggly Friends Captain Feathersword, Dorothy the Dinosaur, Henry the Octopus and Wags the Dog - guarantee heaps of fun for the kids in an energetic one-hour performance, during which they'll be singing, laughing and dancing from start to finish!
With four morning and afternoon performances across two consecutive dates, spoil the kids this Easter to The Wiggles Fun and Games at QPAC on April 16 and April 17.
The Sound of Music Singalong
Love The Sound of Music? Sing along to "My Favourite Things", "The Sound of Music", "Do-Re-Mi" and the rest in Sing-A-Long Sound of Music, coming to Queensland Performing Arts Centre for one evening of costume dress-up and live singing.
This once-in-a-lifetime event will feature a costume parade followed by a full screening of the famous 1965 musical film on a big screen with live lyrics, offering the chance to sing out loud with a full Sound of Music-loving audience!
If you've seen the musical, this is the next best thing - don't miss this live singalong and movie screening at QPAC on April 19.
Opera Gala 2020
The Opera Gala is one of Queensland Performing Art Centre's most famous annual concerts, featuring world-class musicians and singers on stage performing some of the most celebrated opera pieces of all time.
Following last year's incredible concert, hear the likes of Verdi, Rossini, Mozart, Gounod, Donizetti, Tchaikovsky and more in this year's 2020 program, all of which will be performed in none other than QPAC's magnificent Concert Hall for another year running.
For an evening of renowned opera in Brisbane's number-one performing arts theatre, make sure to plan in advance for Opera Gala 2020 on April 24.
Spirit of the Dance Brisbane
Get ready for Spirit of the Dance - the international Irish dance spectacular that has stunned global audiences for more than 20 years.
Now celebrating its 21st anniversary in 2020, Spirit of the Dance comes to Australia with one exclusive date set for Brisbane, where Australian audiences can join over 20-million people who have had their breath taken away by this multi-award-winning performance that fuses Irish dance with unique styles from all over the world.
Lasting two hours, but sure to have you on the edge of your seat till the curtains close, Spirit of the Dance comes to Queensland Performing Arts Centre's Concert Hall for one night only on April 30.
South Central Southbank Apartments Brisbane
Based in the heart of South Bank and just walking distance from everything it has to offer, our South Brisbane apartments at South Central guarantee your perfect stay in Brisbane City, comprising of modern, fully self-contained 1 and 2 bedroom apartments that won't disappoint travellers, couples and families wanting the best of Brisbane at arm's reach.
Each with a bright and spacious open-plan design, full kitchen facilities and a large private balcony, South Central apartments are a home away from home upon arrival; additional features including air conditioning, laundry facilities, Foxtel TV and free WiFi, plus exclusive guest access to our rooftop lap pool and barbecue-equipped sundeck.
For one of the above events or simply an exciting city break with the whole family this Easter, book directly with us today to avail our cheapest rates. Find more information by just visiting South Central.