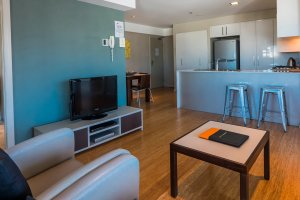 We're working to be able to provide for our families—so that we can give them what they want, what they need, and to keep them happy,. But sad as it may be, this same work may sometimes tear us apart from our loved ones. Sometimeswe are required to go on a business trip to a far place. And it's not like we have a choice. Because at the end of the day, all the time we spend away from them will still be for them.
If you'll be on a business trip to South Brisbane soon, you should stay at South Central.
Situated just a kilometre away from CBD, our accommodation near QPAC will make you feel as if you're never away from home. Offered in either One Bedroom, Two Bedroom, and Two Bedroom Family Apartment, you'll experience a fusion of being a travellerand alocal resident in one.
If you are travelling alone, the One Bedroom unit option is best suited for you. Once you enter your unit, you will feel as if you're just home with all the facilities inside. Cook your favourite meals in the kitchen that has a complete set of materials you need, eat them merrily in the dining area that has comfortable table and chairs, unwind in the living area with a soft sofa and television, continue some unfinished tasks in the study area, and sleep tight on a cosy queen sized bed in the bedroom. Each unit also contains a laundry area with washing machine and dryer, air conditioner, direct dial telephone, and free Wifi access all throughout your stay with us so you can bridge the gap with your family anytime and feel like you're actually with them.
If our units can make you feel at home, our guest facilities located within our vicinity can make it seem like you're not on a business trip, but instead, a vacation where you can relax and let the peace overwhelm you. Our Brisbane Convention Centre accommodation has a swimming pool, sundeck, barbecue area, spa, gym, cafe, and free car park to make your stay with us worth it.
Book us now at http://southcentral.etourism.net.au/.