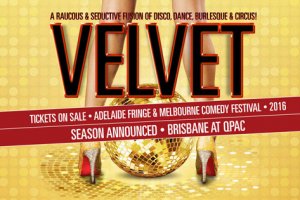 Is your soul searching for some discotheque action? Get your fill of spectacular numbers from the controversial VELVET, set to hit Brisbane this April!

Queensland Performing Arts Centre (QPAC) proudly welcomes the amazing cast and crew behind VELVET for five days of raucous and seductive wonderland, Boogie Wonderland! Experience an all-out theatrical production unlike any other. Excite your senses with an ambitious variety show that features: disco, dance, burlesque, and circus that only world-class talents can bring to the proverbial table.

That's why Director Craig Ilott has put a stellar cast together to pull off an ambitious showcase interspersed with glittery costumes, and vocal and acrobatic stunts to match. The stage will transform into a nightclub inspired by the popular Studio 54. He describes it as a state of mind, a fantasy, that provocatively tackles freedom and the culture of acceptance. The story will center on a young man as he embarks on a personal mission towards self-discovery and acceptance.

In addition, VELVET also takes pride in its stellar cast. Led by singer-songwriter Brendan MacLean, you will witness international ensembles of circus, cabaret and music talents sashaying their theatrical prowess. Look forward to appearances by Craig Reid, Stephen Williams, Mirko Kockenberger, Emma Goh, Chaska Halliday, Rechelle Mansour, Joe Accaria, and Maria Hines!

VELVET is definitely excited to set QPAC's Cremone Theater on fire. Are you excited already? Tickets will go on sale starting 22 February 2016, 9 AM. Reserve your tickets as fast as possible before it is all too late! Catch it from 20 to 24 April 2016. For more details, visit http://velvettheshow.com/.

Meanwhile, if you have yet to decide on where to stay for the weekend. Look no further than South Central. Conveniently located at 43 Peel Street, Cnr Merivale and Peel Street, South Brisbane, we offer excellent accommodations complimented with superb guest amenities to ensure you of an pleasurable stay. Our location also helps you easily get around Brisbane. You can be assured of accessible public transport perfect for your soul enriching pursuits.

It's going to be a disco extravaganza you'll never forget! Book our Accommodation near QPAC today and start planning your Brisbane getaway. We at South Central look forward to having you over. Visit http://southcentral.etourism.net.au/. It's fast and easy!
Image Source : VELVET