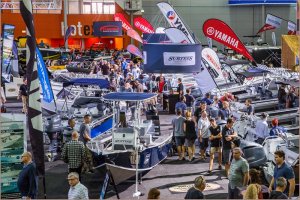 Enjoy the 2019 Brisbane Boat Show in August with South Central
Round up your whole family and get to Brisbane this winter for the 2019 Brisbane Boat Show - one of the largest boat shows in Australia that is gearing up to take over the Brisbane Convention and Exhibition Centre in South Bank.

Spread over three days, this family-friendly exhibition is unmissable if you love all there is to do with boats, fishing and water sports, and you can make sure to catch all of the three-day action with our Southbank apartments at South Central Brisbane.

Just a short walk from the Brisbane Convention Centre, our location at South Central Apartments puts South Bank in the palm of your hand - the cultural centre of Brisbane, home to tourist attractions, award-winning restaurants and world-class live entertainment and events every month.

With our Southbank accommodation, South Bank Brisbane is yours to explore as you relax in one of our modern, fully self-contained apartments - all of which provide an ideal stay for corporate guests, couples and families.

Brisbane Boat Show 2019 is one big reason to head to Brisbane this August, and if you're looking to check out the event as well as enjoy the best of South Bank, make sure to book your stay in our South Brisbane accommodation apartments.
The Brisbane Boat Show 2019
Back for another year at the renowned Brisbane Convention & Exhibition Centre, Brisbane Boat Show 2019 is all set to deliver the region's largest exhibit of boats, boating products, fishing equipment and water sports gear.

Whether you're a boat owner, in the market for your first boat or just love to fish and get out in the water, Brisbane Boat Show is the ultimate opportunity to see an eye-catching selection of newly released and discounted industry products, all brought under one roof by some of the leading exhibitors in Australia.

Hosted by Boating Industry Association Ltd, Brisbane Boat Show will have lots to see and talk about and even more to keep the whole family entertained. There will be interactive fishing masterclasses for all ages, alongside live demonstrations of innovative new marine products that will take place in the show's indoor 20-metre pool, where kayaks, canoes, stand-up paddle boards and lots more can be tried and tested firsthand. Kids can also enjoy heaps of fun on inflatables and bumper boats!

Browse the diverse spread of exhibitors and don't miss the chance to talk one-on-one with the industry's top experts, who will be more than happy to help you find the right product or service for you. This year's Brisbane Boat Show will host a huge clearance of fishing tackle alongside exclusive show-only deals, so make sure to come along if you're keen to snatch up a bargain.

Just a few exhibitors you can expect at Brisbane Boat Show 2019 include Australian Marine Centre, Bayside Suzuki Marine, Boating & RV, Bush 'n' Beach Fishing, Motorsport Marine, North Coast Boating, Surf Coast Marine, Tacklebusters, Yamaha Motor Australia and many more.

Don't miss it - the 2019 Brisbane Boat Show will take over the Brisbane Convention Centre in South Bank for one whole weekend from Friday to Sunday on August 23, 24 and 25!
Our Accommodation Near Brisbane Convention Centre
Get set for The Brisbane Boat Show in August with our Brisbane Convention Centre accommodation, which will put you just walking distance from this year's big event! Whether you're coming to Brisbane for business or leisure, you'll find your perfect stay at the heart of Southbank Brisbane with our choice of open-plan One and Two Bedroom Apartments.

Featuring spacious living and dining areas, full kitchen facilities and stunning private balconies, our modern Southbank apartments offer self-contained luxury complete with large Queen-sized beds and free WiFi access.

If you're visiting on business or planning an exciting couple's break in the city, our One Bedroom Apartment won't disappoint, offering everything you need for up to 2 guests. For up to 4 guests, our Two Bedroom Apartment gives you two Queen-sized beds - perfect for groups and travelling couples - while our Two Bedroom Family Apartment presents comfort for all the family with one Queen-sized bed and two singles.

Whichever suits your needs, make sure to book directly with us at South Central to take advantage of our affordable rates!
South Bank - The Cultural Heart of Brisbane
Situated in South Bank, your time in Brisbane will never be short of excitement with our location that puts world-class events, restaurants and tourist attractions at the tip of your fingers. Whether you're visiting Brisbane Boat Show 2019 or not, ensure to make time to explore everything Southbank has to offer:
Discover Queensland Cultural Centre
The Queensland Cultural Centre in South Bank is made up of the Gallery of Modern Art, Queensland Art Gallery, Queensland Museum and Queensland Performing Arts Centre. Browse Brisbane's biggest art collection at QAGOMA, get interactive with history and science, and don't forget to see what exciting shows are on during your stay.
Must-Visit South Bank Restaurants
South Bank guarantees a handful of dining experiences that you won't forget! You'll find the best restaurants - all located within walking distance from our South Brisbane accommodation apartments - on Grey Street, Sidon Street and Little Stanley Street.
Unwind at the South Bank Parklands
The South Bank Parklands on the riverfront of Brisbane River offer a great spot to relax and unwind. There are numerous art sculptures to see throughout the park, along with public swimming areas and a fantastic view to enjoy atop the popular Wheel of Brisbane.
Book Our South Brisbane Accommodation Apartments Today
Stir up the excitement this winter with a city break in Brisbane, Queensland's most vibrant city, and make sure to yourself the best location in Brisbane with us at South Central, where you'll enjoy pretty South Bank - the home of the Queensland Cultural Centre, wold-class restaurants and Brisbane's biggest events, such as the 2019 Brisbane Boat Show in August.
View our Southbank accommodation and book directly with us today - just visit South Central South Brisbane Apartments.