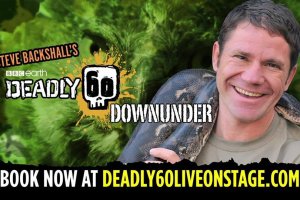 Deadly 60 Down Under
Witness Australia's deadliest animals live on stage in Steve Backshall's Deadly 60 Down Under. The hit British TV show is all set to be a thrilling experience live, featuring stunts and audience participation with some of Australia's most extraordinary predators. English naturalist Steve Backshall knows nature better than the rest, and Deadly Down 60 Down Under will be just as informative as it is exciting. There's only a few Australian dates to catch this 2019, with one unmissable date taking place in Brisbane. Don't miss the chance see Deadly 60 Down Under at the Queensland Performing Arts Centre with a morning and afternoon showing on January 4.
The Illusionists
The Illusionists come to Brisbane this January and it's all set to hypnotise, dazzle, and astonish at the Queensland Performing Arts Centre. Direct from Broadway, these world-class illusionists know how to work an audience as they deliver unprecedented acts of magic and illusion - guaranteed to leave jaws dropped. It's one of the most exciting magic shows on the planet, and it's a must-see when it comes to Brisbane on an exclusive run from January 9.
The Sleeping Beauty
Presented by the Ballet Theatre of Queensland, The Sleeping Beauty is magnificent ballet production of one the world's most adored fairytales. This fantastic production stars Queensland's leading youth ballet company as they dance to the music of Tchaikovsky, and for those that want to relive the story of Sleeping Beauty, it's one to catch this summer. Make sure to see a performance from its four-day run at the Queensland Performing Arts Centre during January 16 and January 19.
Pick an exciting summer show and enjoy it over a city break in Brisbane with our luxury South Bank accommodation near QPAC. See what our one and two bedroom apartments can offer you at https://southcentral.etourism.net.au