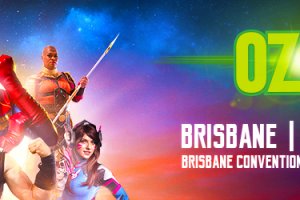 Brisbane Festival 2019 - The Must-Attend Event This Spring
Experience Brisbane with a whole new quality this spring when Brisbane Festival 2019 returns to bring three weeks of exciting entertainment in the streets and in the venues for its 10th annual event.

Our South Brisbane apartments will put you in the centre of the excitement this September, which will see a huge program of live music and dance, cabaret and circus, theatre, opera and public art displays take over the Brisbane CBD for 24 back-to-back days. Offering something for all ages and tastes, Brisbane Festival marks one of the best times to be in the city, bringing in over a million visitors each year and a fantastic festive atmosphere along with it.

Arriving once again from September 5 to September 28, Brisbane Festival 2019 will celebrate its 10th year with a brand new program that's not to be missed, which will supply a continuous lineup of performing arts events in venues such as QPAC, The Courier-Mail Spiegeltent and The Tivoli, along with landmark Brisbane areas such as Brisbane City Hall, Riverstage, South Bank and more.

Take your pick from an assortment of live performances involving artists and entertainers from around the world, and don't miss incredible annual highlights such as River of Light - a dazzling light display on Brisbane River - and Sunsuper Riverfire, which closes Brisbane Festival each year with fireworks, music, aerobatics and barges on the South Bank riverfront.

At South Central, our Southbank apartments offer the perfect location for soaking up this year's Brisbane Festival, which is guaranteed to be its most thrilling event yet!
Stay in South Bank with Our South Brisbane Apartments
Situated in the heart of Brisbane in South Bank, our location at South Central puts Brisbane Convention Centre, Queensland Cultural Centre, the South Bank Parklands and more at arm's reach.

Surrounded in iconic venues and leading institutions, a bustling dining scene and the best places to shop in Brisbane Queensland, South Central is your pass to the best things to do in the city, which you can enjoy in full with our choice of family-friendly One and Two Bedroom Apartments.

Fully self-contained, modern and spacious, our Southbank apartments offer ideal comfort with bright living and dining areas, fully equipped kitchen facilities, modern furnishings and private balconies with fantastic views of Brisbane. Spread out on a large Queen-sized bed, enjoy free WiFi and take advantage of luxury onsite facilities that include a rooftop swimming pool and barbecue sundeck.

Book direct and save - we offer the best rates for our South Brisbane accommodation apartments!
Also in September - Brisbane Home Show 2019
If you're keen to renovate or find new ideas and products to spruce up your home, don't miss The Brisbane Home Show 2019 - another must-attend event coming to South Bank this September.

Packed with up to 300 leading exhibitors from around Queensland, Brisbane Home Show is the region's best expo for home renovation, interior decoration and locating exactly what you need to add the finishing touches to your home. Get free expert advice from industry professionals and businesses, browse modern home trends and compare prices across a wide range of first-rate services and products - all under one roof at the huge Brisbane Convention and Exhibition Centre.

The 2019 Brisbane Home Show returns after a successful 2018 event - stop by over one whole weekend at the Brisbane Convention Centre from September 13 to September 15.
Treat the Kids to Oz Comic-Con 2019
Also at the Brisbane Convention Centre near our South Bank accommodation, delight the kids during the spring school holiday with Oz Comic-Con 2019 - Australia's largest pop culture event for comic book lovers, gamers and Sci-Fi addicts!

Oz Comic-Con stops each year in Brisbane, bringing with it three whole days of cosplay action, special video game previews, panel talks and famous guest appearances. Come along to get your hands on exclusive merchandise, win exciting prizes and join a vibrant atmosphere of like-minded pop culture fans from all over Australia.

This year, the Kids Cosplay Parade is guaranteed to be heaps of fun for the kids, providing the perfect chance to get the kids dressed up as their favourite superheroes, villains and comic book characters. There will also be exclusive anime screenings, meet-and-greets and plenty of hands-on gaming action to look forward to in the Gaming Zone.

Catch Oz Comic-Con 2019, taking over Brisbane Convention & Exhibition Centre on September 21 and September 22 - just in time for school's out!
Everything You Can Enjoy in South Bank Brisbane
As you get spring underway with all the big events happening in Brisbane this September, take some time out during your stay at South Central to explore everything South Bank has to offer. From places to visit and shows to see to world-class dining and popular shopping hotspots, you'll never be short of something to do in South Bank - no matter whether you're visiting with the kids or with a partner.

Discover culture and history at GoMA and Queensland Museum, find an assortment of famous restaurants on Little Stanley Street and Grey Street, and make sure to take in the Brisbane cityscape from The Wheel of Brisbane. The South Bank Parklands offer a great change of pace in the Brisbane CBD, and just a stone's throw away, don't miss out on an unforgettable shopping experience at world-famous Queen Street Mall.
Book Now for an Exciting Start to Spring
Spring is just around the corner, and if you're looking to start the new season in high spirits, head to Brisbane for Brisbane Festival 2019 - one of many exciting events in September that you can enjoy with our central South Bank apartments.

We offer modern and spacious city apartments for both couples and families with excellent onsite facilities and a location that's surrounded in everything fantastic about Brisbane. Find more information and book directly for our exclusive rates - just visit South Central Southbank Apartments Brisbane.