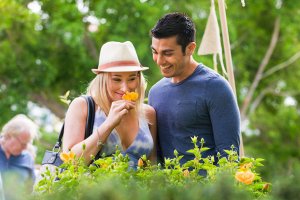 Travelling is exciting. It lets you in new and unforgettable experiences, it enables you to meet new people whom you can learn heaps, and it make you a better person in the long run.

So on your visit to Brisbane soon, why not play the role of an explorer and head on to Epicurious Garden off South Bank Parklands, to discover serene and green surroundings with scented herbs and exotic plants?

As a must see destination for both locals and tourists, the garden doesn't have any entrance fee so you're free to visit anytime all throughout the year.

The garden is a productive garden, which means all the plants in it are edible. All are organic, seasonal, and has undergone careful selection by horticulture professionals to guarantee that each can withstand Queensland's climate and can yield beautiful, ornamental design.

Inside the garden, you can explore and discover the life of the plants, and what newly harvested fruits and vegetables look, feel, and smell like. You are even free to have a chat with its volunteer gardeners so you can learn things about gardening in general and the inner city gardening. Available Tuesdays, Wednesdays, and Thursdays from 7am to 11:30am, these volunteers are knowledgeable and friendly enough to answer you every question.

Recipe suggestions are also available on site so you can learn new ways to cook fruits and vegetables in your home.

If you're interested in picking produce inside the garden, you can either grab some herbs from the big pots for some taste, or in the harvest cart from 7am to 2pm every Tuesday, Wednesday, and Thursday. You can also request one of our volunteers to pick some for you, but you are advised never to do the picking on your own.

For your accommodation near Suncorp Stadium, you should book your stay at South Central. Located in South Brisbane, our resort has all your needed guest facilities for a worthy holiday: A swimming pool for some morning dipping and exercise, sun deck where you can take in the vitamins of the sun or simply take a rest, barbecue area with all the necessary facilities, free Wifi access, free secured parking space, onsite café and hairdresser, and access to our associate gym and spa.

Book our Brisbane Convention Centre accommodation by visiting http://southcentral.etourism.net.au/.
Image Source : South Bank Garden