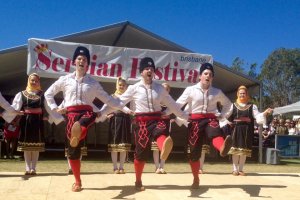 End your August on a high note by soaking up the festive atmosphere surrounding the upcoming Brisbane Serbian Festival. Round up your family and favourite festival buddies and brace yourselves for a fantastic showcase of Serbian culture, values and traditions on August 28th, 11 a.m. onwards.

Catch a great lineup of entertainment interspersed with traditional Serbian music and folkloric dancing, plus loads of fun-filled activities and rides for your little tikes. Foodies like you cannot miss out on the widest selection of traditional Serbian sweet and savoury delicacies, including crowd favourites like Ćevapi (grilled sausages), Krofne (doughnuts), and Palačinke (crepes), coupled with some Serbian beer.

The much-awaited festival will be held at Dutton Park State School Oval, which is located at 112 Annerley Road, Dutton Park - just 4 km south of the Brisbane CBD.

The Brisbane Serbian Festival is supported by the Queensland Government, Brisbane City Council, and Blue Sky Coffee. To learn more about the festival, please visit https://www.facebook.com/pages/Brisbane-Serbian-Festival/240023732702263.

Now, to get you ready for a long week ahead, we at South Central invite you to make us your accommodation partner during the festival. All of our Brisbane Southbank apartments provide you with excellent accommodations and world-class guest amenities to ensure you of an awesome time away from it all. Imagine being able to enjoy a refreshing swim in our rooftop lap pool, sunbathe while listening to your playlist at our sundeck, indulge in sumptuous barbecue meals, work up a few sweat at our gymnasium, and access WiFi within your apartment, among other premium amenities.

Explore the beautiful Brisbane. First things first - get to know Brisbane's rich history by taking free guided educational tours to the City Hall and the Brisbane Museum. Soak up the city vibe from the riverside by taking the CityHopper, which will take you all the way from Sydney Street in New Farm all the way to North Quay for free. Shop at loads of weekend markets for trendy finds while being serenaded by buskers.

Map out your Brisbane itinerary already. Book your stay at http://southcentral.etourism.net.au/ today. It's fast and easy!