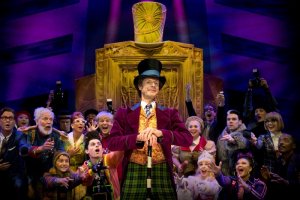 Best Family Brisbane Events This Autumn 2020
Visit Brisbane this autumn for a host of exciting family events from March to May, including World Science Festival 2020, Brisbane Model Train Show and Brisbane Street Art Festival, along with exclusive limited runs of Charlie and the Chocolate Factory The New Musical, Shrek the Musical and more at the Queensland Performing Arts Centre!

Make sure you're ready for the above, and more, by booking your city break today with South Central, where we offer self-contained Southbank apartments for couples, families and travellers, complete with fantastic guest facilities and a prime location in the heart of Brisbane and everything it has to offer. In a quick read, here's every unmissable event coming to Brisbane this autumn: H3: Brisbane Cycling Festival 2020 Staged over three weeks, Brisbane Cycling Festival 2020 will take over various venues and locations in Brisbane with a huge program of fun and competitive cycling events, workshops and festival activities.

Comprising major events including the Six-Day Cycling Final, Track National Championships and the Tour de Brisbane, this massive 25-day festival will have something for all, alongside live entertainment at the Cycling Festival Village, Green Power Brisbane City Lights, film nights, the annual Gala Luncheon and more.

This year, spectate, join in and soak up the electric atmosphere across the city for Brisbane Cycling Festival from March 12 to April 5. H3: Charlie and the Chocolate Factory QPAC For an exclusive month-long run at South Bank's QPAC, Roald Dahl's Charlie and the Chocolate Factory comes to life on stage in the official Charlie and the Chocolate Factory Musical featuring a stellar performing cast, colourful stage design and the complete film soundtrack.

A must-see show with the kids, Charlie and the Chocolate Factory - The New Musical comes to Brisbane after premiering in Sydney early this year, having dazzled its initial audiences with all the original characters, dancing Oompa-Loompas and recognisable songs including "Pure Imagination". Take the whole family to see it near our Southbank accommodation from March 18 to April 18. H3: Brisbane World Science Festival 2020 Attend World Science Festival 2020 in South Bank Brisbane for five days of live talks, street stalls, interactive workshops and exhibits; celebrating science, art and education in Brisbane's main Cultural Precinct - the home of Queensland Museum and Sciencentre, Queensland Art Gallery and GoMA.

Last year, Brisbane World Science Festival attracted more than 200,000 visitors - get ready to be fascinated, educated and inspired when it returns for 2020 from March 25 to March 29.
Brisbane Showgrounds Model Train Show
Spoil the kids to a two-day showcase of stunning model train displays large and small at the 2020 Brisbane Model Train Show, arriving at Brisbane Showgrounds in March for its incredible 43rd event.

Over one weekend, see a display of model trains and villages under one roof, complete with the chance to purchase collectable trains, accessories and kits from some of Australia's top exhibitors. For hobbyists as well as families with kids - with free entry for all under 16 - this annual event is coming back bigger than ever on May 2 and May 3.
Brisbane Street Art Festival
Held citywide across two weeks, Brisbane Street Art Festival will decorate the city streets this May, transforming Brisbane into a creative hub of live outdoor art, exhibitions, workshops, public performances and nightly festival parties.

Expect acclaimed artists from all over the globe at 2020 Brisbane Street Art Festival, once more celebrating artistic expression with everyone welcome to attend, learn and get inspired. Brisbane Street Art Festival is all set for 16 days from May 2 to May 17.
2020 Anywhere Festival
Alongside Brisbane Street Art Festival, Anywhere Festival will bring the streets to life with outdoor theatre performances for all to enjoy each day in various locations.

Anywhere Festival, held annually in Brisbane and the Sunshine Coast, takes theatre out of the venues and into the streets, showcasing Queensland's acting talent and opening theatre up to a wider public audience. This autumn, Anywhere Festival is back from May 7 to May 24.
Shrek the Musical Brisbane
Another must-see family musical with a limited four-week season at QPAC, Shrek the Musical comes directly from Broadway with 19 hit songs, immersive stage sets and all the favourite characters from the Oscar-winning 2001 DreamWorks blockbuster.

This international smash-hit musical isn't to be missed if your kids love Shrek, closely following the original story with an incredible cast filling the boots of Shrek, Princess Fiona, Donkey and The Dragon! For all ages, catch Broadway's Shrek the Musical at Queensland Performing Arts Centre from May 9 to June 7.
Madman Anime Festival Brisbane Convention Centre
Set for a three-day weekend in May, Madman Anime Festival comes to Brisbane after Sydney for another huge anime fest at the Brisbane Convention and Exhibition Centre in South Bank. Australia's biggest convention of its kind, MadFest boasts nothing but anime and Japanese pop culture, featuring exclusive vendors and exhibitions, film premieres, international guests and, of course, phenomenal cosplay!

Join the thousands heading to Southbank for this lively festival and convention, bigger and better for 2020 with all-new merch, guests, panels and exhibitions - Madman Brisbane Anime Festival will take place from May 22 to May 24.
Book Southbank Apartments Brisbane with South Central
Plan to visit Brisbane during one of the above events and make sure to be near all the excitement with our South Brisbane accommodation apartments in South Bank, situated on Peel Street and just minutes away from Brisbane Convention Centre, Queensland Performing Arts Centre, The Wheel of Brisbane and Queen Street Mall.

For city visitors, couples and families, we offer comfortable one and two-bedroom apartments, fully self-contained and stylish in design for a memorable stay in the heart of Brisbane and its best events, attractions and things to do.

View our Southbank accommodation, including our guest facilities and cheap direct rates, today by just visiting South Central.