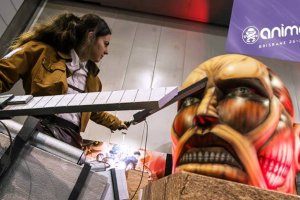 Treat yourself to a memorable break in the city this May as you'll get to pick from a whole host of events and live concerts taking place near our South Brisbane apartments at South Central.

Situated in South Bank, our modern and fully self-contained One and Two Bedroom Apartments provides an unbeatable location in Brisbane next to some of the city's most iconic venues, parks and tourist spots, offering an exciting Brisbane experience that comes second to none.

By securing your booking in May, here are just a few of the ways you can spend your time in Queensland's most exciting city.
James Morrison and Kurt Elling
Enjoy an evening of cool jazz and mellow soul with James Morrison and Kurt Elling at the Queensland Performing Arts Centre. For the first time ever, these two internationally successful performers will join their talents for an anticipated Australian tour, and Queensland fans won't want to miss it when it comes to Brisbane.

English singer-songwriter James Morrison came into the spotlight with his debut 2006 single "You Give Me Something", which was featured on Undiscovered - James' first album that went Platinum in multiple countries. His success only furthered with subsequent album releases Songs for You, Truths for Me and The Awakening. His newest album, You're Strong Than You Know, was released on March 8.

Kurt Elling, who hails from America, is a Grammy Award-winning jazz singer-songwriter widely known for his scat-style singing and collaborations with some of the world's greatest musicians. Kurt has been on the scene for more than two decades, and has released over a dozen albums including his most 2018 release The Questions.

The styles of both James Morrison and Kurt Elling are a match made in heaven, and their upcoming tour will see them fuse their signature sounds in a series of unforgettable performances offering easy-going jazz, soul and soft rock for fans that know and love them both.

Don't miss this rare collaboration of two accomplished artists at the Queensland Performing Arts Centre on May 7.
A Bowie Celebration - The David Bowie Alumni Tour
A Bowie Celebration is the ultimate David Bowie experience coming to Australia as part of a huge world tour.

Celebrating 50 years since the release of David Bowie's iconic hit "Space Oddity", A Bowie Celebration - The David Bowie Alumni Tour is more than just a tribute featuring past band members and various other David Bowie performing alumni such as Mike Garson, Gerry Leonard, Carmine Rojas, Mark Plati and Lee John. Joining will be a cast of world-class singers to deliver Bowie's recognisable vocals, including Living Colour's Corey Glover and Joe Sumner alongside other special guests to be announced.

This sensational roster will deliver a world-class homage to Bowie packed with all of his greatest hits. David Bowie is one of music's pioneering greats, who was an icon from the '70s onwards known around the globe for his glam rock alter-ego Ziggy Stardust. His most recognisable songs include "Starman", "Space Oddity", "Life on Mars", "Rebel Rebel", "Under Pressure", "Let's Dance" and his collaboration with Queen on "Under Pressure" - songs that earned him more than 140-million record sales worldwide.

Join the talented David Bowie Alumni in this unmissable celebratory world tour with one stop at the Queensland Performing Arts Centre on May 8.
Brisbane Truck Show 2019
See an incredible display of trucks, trailers and more at the bustling Brisbane Truck Show at the Brisbane Convention and Exhibition Centre, returning for another fantastic exhibition this May.

The Brisbane Truck Show is just one event of the even bigger Australian Heavy Vehicle Industry Week, which takes place each year with thousands of truck enthusiasts coming to enjoy the exhibits, snatch up discounted truck components and services, and talk one-on-one with industry experts and other likeminded truck fans. The exhibition takes place for four days - each day crammed with plenty to see and enjoy for the whole family.

If trucks are your style, make sure to be at the Brisbane Convention and Exhibition Centre for the 2019 Brisbane Truck Show from May 16 to May 19.
MadFest Brisbane 2019
Stopping in Brisbane for two days, MadFest 2019 will gather anime fans from all over Queensland for a weekend of dazzling cosplay, exclusive exhibitions, film premieres and international guests.

Come along to celebrate Japanese culture in this immersive celebration of cosplay open to all ages. MadFest - also known as Madman Anime Festival - occurs annually in select locations across Australia, and it's the perfect opportunity for anime admires to dress up, meet likeminded anime fans and take part in a whole host of spirited anime-related events.

There'll be top exhibitors coming from all over Australia selling exclusive anime merchandise, a Creator's Zone for independent anime artists and producers, plus unmissable anime screenings, famous international guests and, of course, hundreds of passionate anime fans dressed in eye-catching cosplay.

MadFest 2019 is the biggie for anime fans in Australia, and for those living around Queensland, it's not to be passed up on when it comes to the Brisbane Convention and Exhibition Centre on May 25 and May 26.
Book Your Stay Near QPAC and the Brisbane Convention Centre Today
Our accommodation near Suncorp Stadium, QPAC and the Brisbane Convention Centre offers visitors a memorable city break near some of the best events, live shows and monthly entertainment that make Brisbane such a sought-after destination in Queensland. James Morrison and Kurt Elling, A Bowie Celebration, Brisbane Truck Show 2019 and MadFest Brisbane are just a few of the big events coming to South Bank this May, and by booking with South Central, you can relax just moments away from all of the excitement.

Treat a partner to a city break with our One Bedroom Apartments, or bring the whole family along to unwind out in our Two Bedroom Apartments. Whatever you have in mind, make sure to book your stay with South Central.

For more info, just click on our South Brisbane apartments.